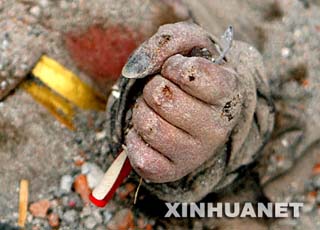 I went to my mum's place last sunday..only that I get to watch phoenix channel as I dont have SCV at home. I was touched by all the chinese united in China and overseas to help in the disaster stricken Sichuan.
1st question came to my mind, when I SAW pictures of children died in the quake, why Allah take away these innocent lives?
There is one story about this man who was trapped under rumbles waiting for help to arrive. The reporter kept by his side for 3 days and nights and finally he was rescued...however by the time they brought the victim down to the bottom of the hill..he was gone. He left a pregnant wife.
The chinese people's army sent parachutees without any oxygen masks jumped 4900m from the helicopters just to get to the villages...The premier minister said, " the people fed you, what can you do for them?"
Another one story, is that the mother protected her baby by covering the baby with her body..when the relief worker found the baby, the mother is died but she left a handphone in the baby's shirt and left an sms in the phone saying, " remember this, my child...even I am no longer with you, but I really love you...."
Many many touching stories in the disaster, on how Allah brought the attributes out of every human. Kindness, mercy, braveness, tolerance and many of the attributes of him in us. Yes, innocent lives are lost but we, the living learnt valuable lessons from disasters. We learn to share, we show compassion, we show kindness, we show strength in times of distress, we show love, we show care, we show humanity, we show grace towards these victims. We cant prevent natural disasters, as these are beyond us, its in the hands of Allah but mankind strive to become better after all these...I once asked a friend of mine, why disasters happen like that?..he replied, "reminders of mercy and forgiving..." Allah knows best.
Please donate to the china quake relief or the myanmar cyclone relief at
RED CROSS
.